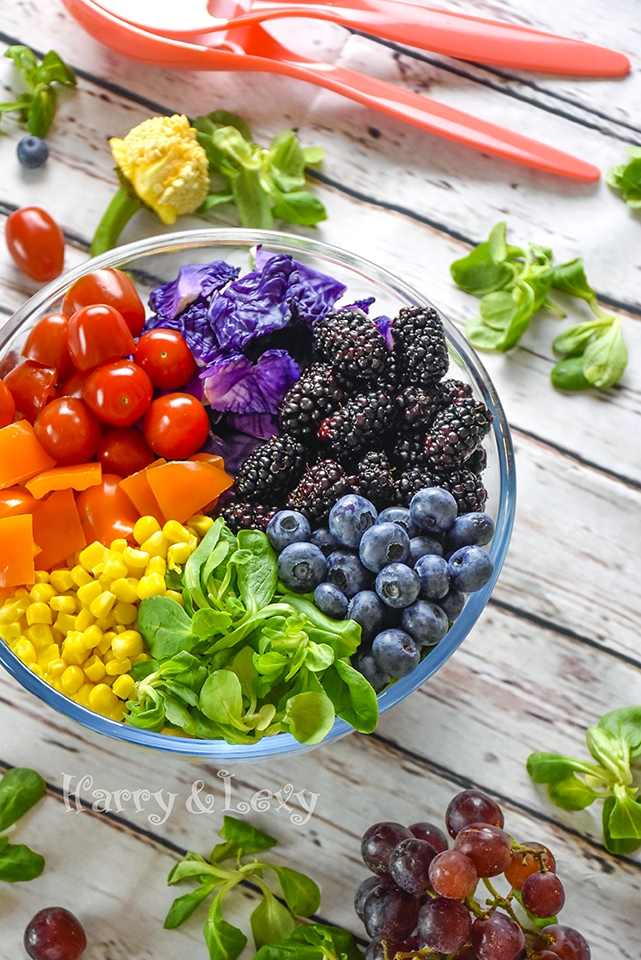 Summer is in its glory and there is no better way to enjoy it than inviting friends over for a barbecue. That's exactly what we did, we even bought a new barbecue for the occasion as the other one was rusting outside for a long time. The procurement responsibilities fell on the boys. I suspected they would think mainly of beer, pork shops, sausages and burgers, which is why I thought it wouldn't be bad if there was some greenliness and vitamins. As every hostess, I wanted to impress our guests and make some stuff that they will like and remember. The action plan was clear, I was going to make some party bites and a big summer salad.
I wanted to make it a bit different, and not only use the traditional green leaves, tomatoes and cucumbers. That is why I took advantage of the fresh and colourful summer, and made a Rainbow salad. The seven colours of the rainbow are red, orange, yellow, green, blue, indigo and violet. I can't think of veggies in all rainbow colours so I used a few types of fruit to supplement my colour palette which made the salad even more summery. Honestly, I was looking at my rainbow salad and it just made me happy!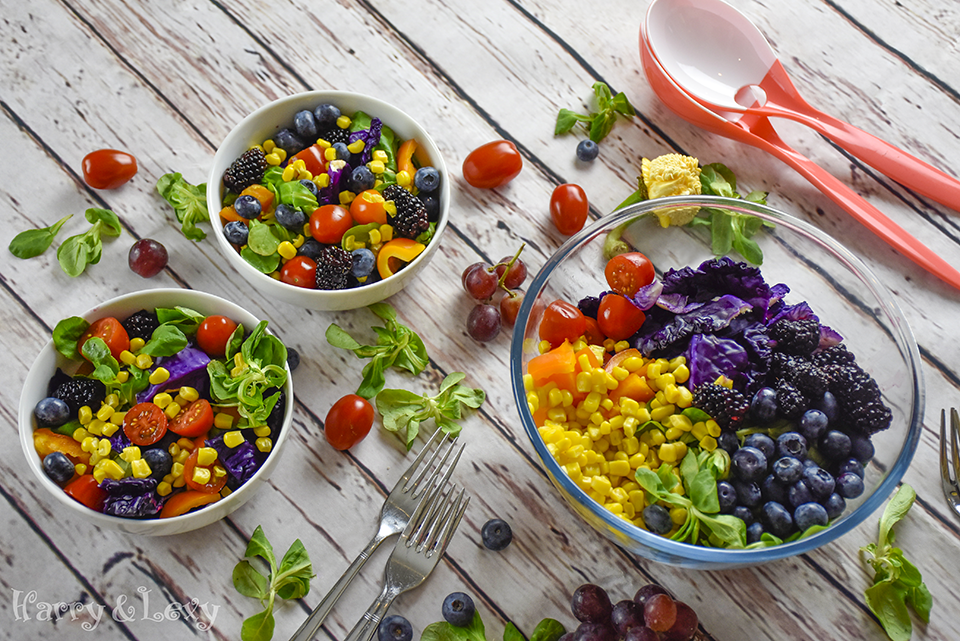 I used cherry tomatoes for red, orange bell pepper for orange, canned sweet corn for yellow, lambs lettuce for green, blueberries for blue, blackberries for indigo, and purple cabbage for violet. Of course, you can adjust the rainbow salad ingredients to match your taste, you can even reduce the type of vegetables a little bit. For example, instead of the sweet corn and tomatoes, you can use red and yellow bell peppers. You can also grate some rainbow carrots. The green colour is easy, you can replace the lambs lettuce with other types of lettuce, spinach, rocket or pretty much any other salad leaves. I was wondering until the last moment if I should add purple cabbage or red grapes but in the end I chose the cabbage because I wanted my salad to be more leafy.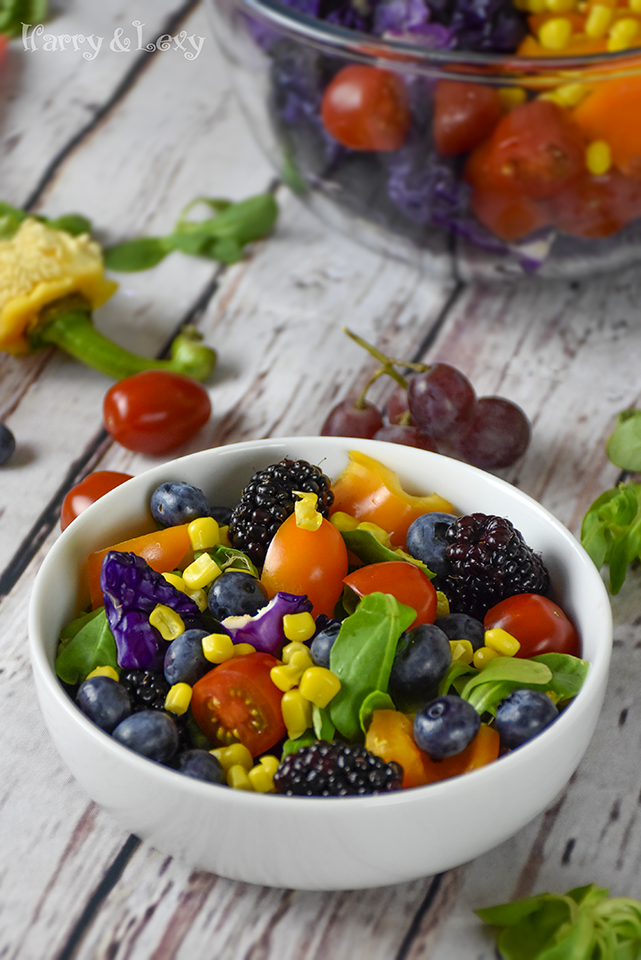 I am using quite a large amount of ingredients for this rainbow salad, as I made it for a party but you can reduce the amount a little (or increase it) depending on how many people you are expecting. I used a French salad dressing but you can use pretty much anything, or you can just add salt, olive oil and white balsamic vinegar to taste. As a serving suggestion, you can arrange the salad into 7 equal sized parts so it will be even more clear that this is a summer rainbow salad.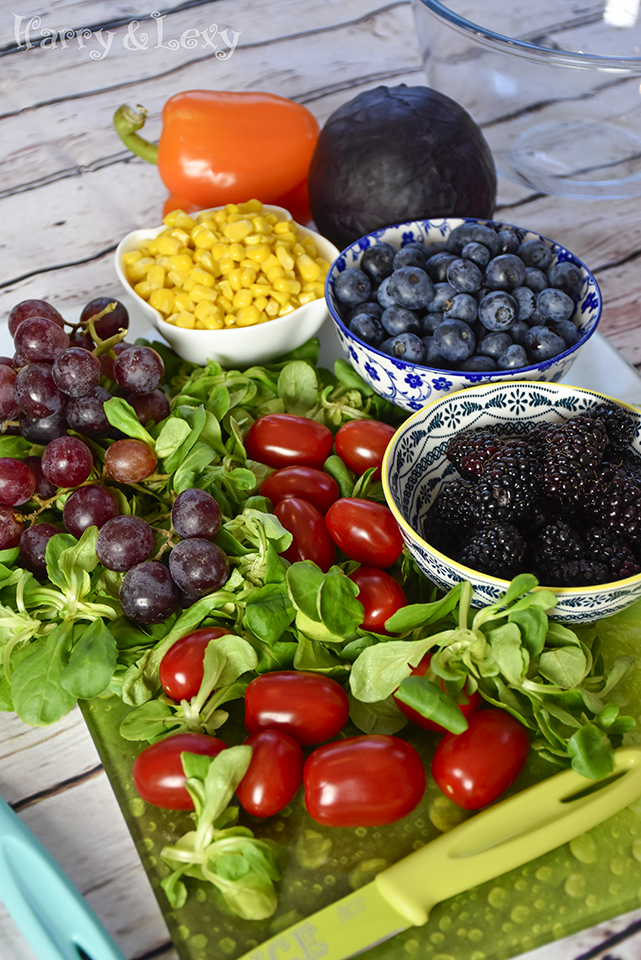 Rainbow Salad Ingredients:
1 small purple cabbage
150 g sweet corn (a small can)
100 g blackberries
100 g cherry tomatoes, halved
80 g blueberries
1 orange bell pepper, cuber
75 g lambs lettuce
1 tbsp. olive oil
½ tbsp. white balsamic vinegar
Salt to taste

Rainbow Salad Preparation:
Wash all fresh fruit and vegetables.
Tear the purple cabbage leaves into a big bowl and arrange them so take up only 1/7 of the salad bowl. As it takes up quite a lot of room, you can put some leaves on the bottom so you can make a foundation.
Arrange some of the blackberries on the left side of the purple cabbage. Then, moving clockwise, arrange parts of the blueberries, lambs lettuce, sweet corn, orange pepper and cherry tomatoes. All ingredients should be placed so that they take up 1/7 and there is no gaps in between. It is best if you put them in layers, as they can slide down if they are piled up.
Season to taste with salt, olive oil and white balsamic vinegar and serve.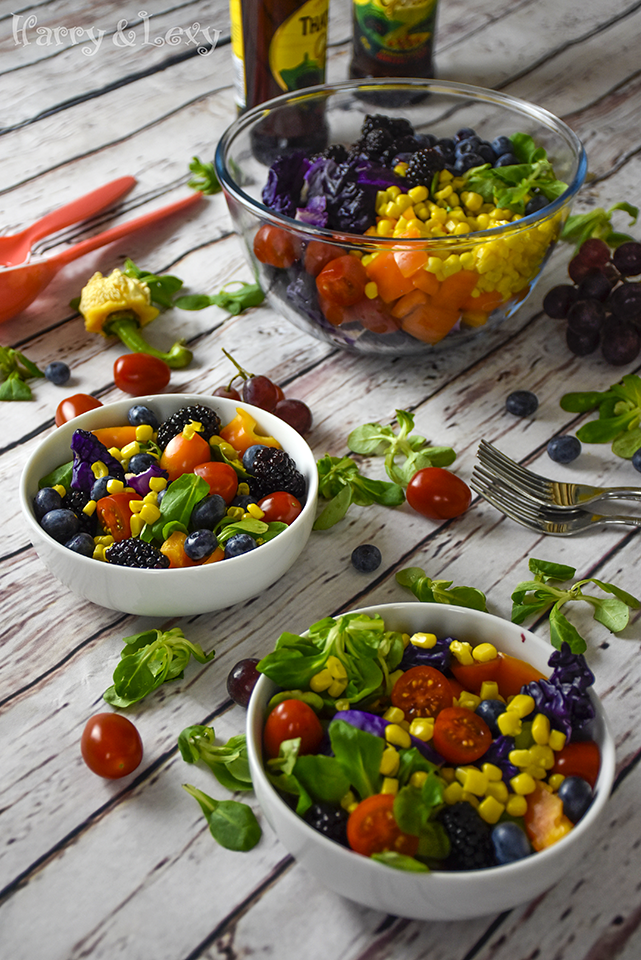 If you don't have time to arrange your rainbow salad in colours, you can simply stir all ingredients together. Bon appetit!