Easy Homemade Feta Cheese Croissants for Breakfast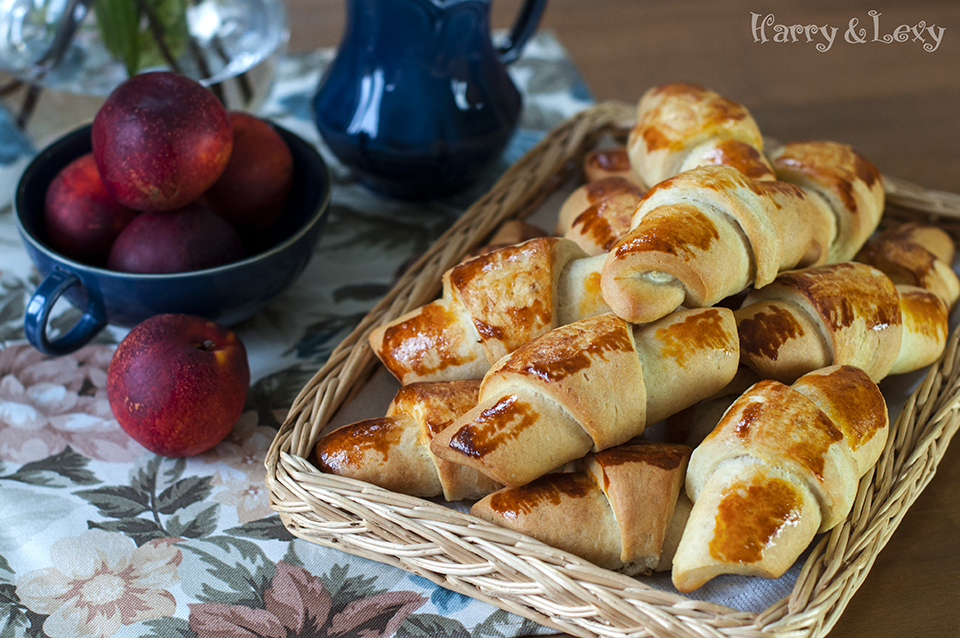 One of the most delicious breakfast ideas I can think of, is warm homemade Feta cheese croissants. First of all, they are super quick and easy to make, nothing like the French butter croissants that you have to fold, layer butter, re-fold and do the same thing over and over again. The recipe is perfect for a weekend morning when you want to treat yourself and have something different rather than the usual toast or cereal. I know this recipe from one of my friend's mum and I really want to thank her for it! If you like, you can sprinkle the croissants (or rather crescent rolls… or maybe just roll ups or buns? I have no idea what to call them!) with sesame or poppy seeds, or even grated Cheddar cheese, but they are super tasty even without adding additional toppings.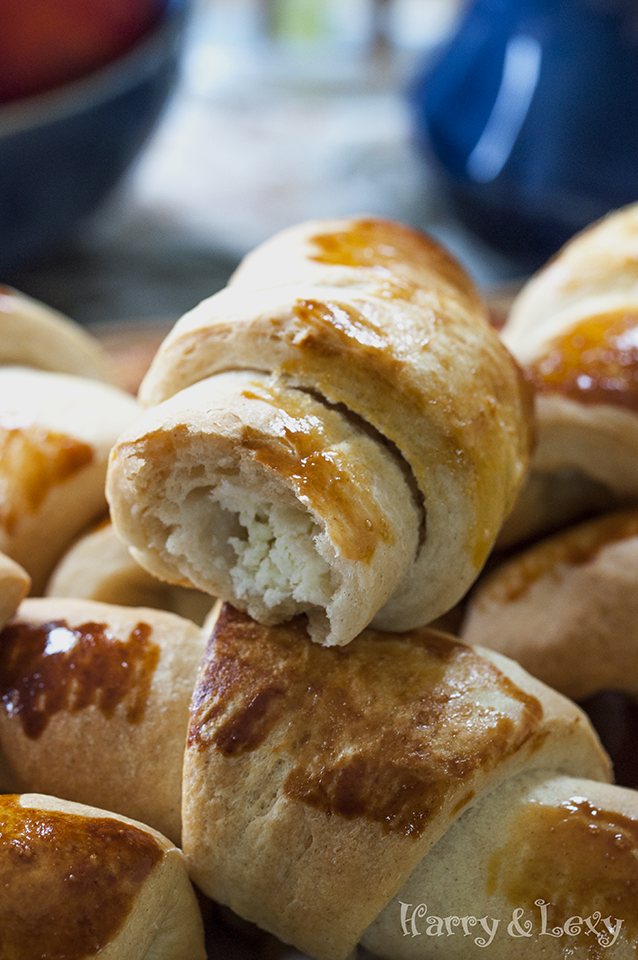 Ingredients for the croissant dough:
500 g all purpose flour
250 ml milk
80 g butter
9 tbsp. sunflower oil
1 dry yeast pack
1 tsp. sugar
1 tsp. salt
Ingredients for the croissant filling:
200 g Feta cheese
1 egg white
Homemade Feta Cheese Croissants Preparation:
Preheat the oven to 180°C. Line a large baking tray with parchment paper.
Place the sugar and the dry yeast in the warm milk to activate it.
Put the flour in a big bowl. Add he yeast, oil and salt, and knead a soft dough.
Divide the dough into 2 equal sized balls. Roll out each one of them to 0.5 cm thick. 
Cut the dough diametrically into 8 triangles (like a pizza). Repeat the procedure with the other half.
To make the roll ups filling, whisk the egg white in a bowl until soft peaks form. Crumble in the Feta cheese and stir well.
Divide the cheese filling equally between the croissants and place it in the outer end of each triangle. Roll up the dough to make little croissants and place them on the baking tray leaving space between them.
Cut the butter into 16 equal parts and place them on top of each of the Feta cheese roll ups so they will melt during baking. Sprinkle with sesame or poppy seeds, or leave them like that. Bake for about 20 minutes, until the cheese croissants turn golden brown.
One morning we had to get up very early and we didn't have any time to have breakfast but we took a couple of feta cheese croissants in a sandwich bag and had them on the train. Their size and texture makes them the perfect take-away breakfast or snack, you can even wrap them up as part of a school lunch for your kids. The Feta cheese roll ups last for 2-3 days, but they smell so wonderful and cosy when they are just baked, that I can't see how they are going to last more time (they were simply never meant to last!). They are also perfect if you are expecting guests, if you prefer something savoury with your afternoon tea or to treat your colleagues at work.