Chicken Tikka Masala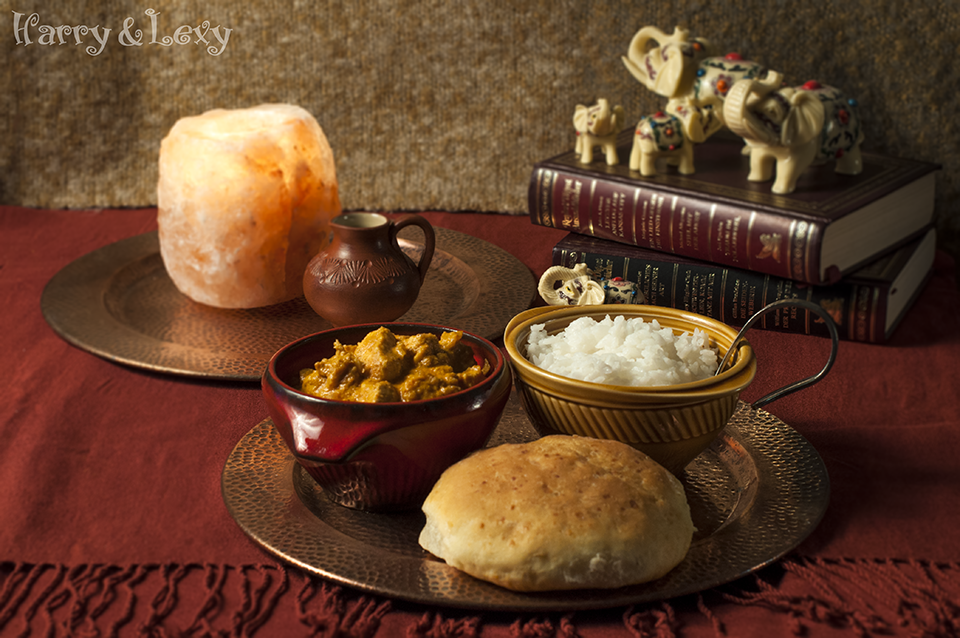 I was craving Indian food for a long time and finally decided to make Chicken Tikka Masala for dinner. I served it with rice and bread. Of course, traditionally you would serve it with naan bread but I had made feta cheese buns for breakfast and I had a few left. It was a great combination as they are savoury and salty, and I put just a little bit of salt in my dishes at the expense of the spices.
You need to marinate the chicken in advance for this recipe so the best thing to do is to prepare it early in the morning and cook it in the evening, or even better – leave it in the fridge overnight.
This Chicken Tikka Masala recipe is medium hot so those of you who don't like spicy food, can replace the chilli with sweet paprika. If you'd like to venture and try the original recipe, you can add the chilli last. Add a tiny bit at a time, stir and try, and continue doing so until you have reached the desired spicy taste. And don't forget not to add any salt to your rice (250 g is enough for 4 portions) as it needs to be neutral and balance the hot.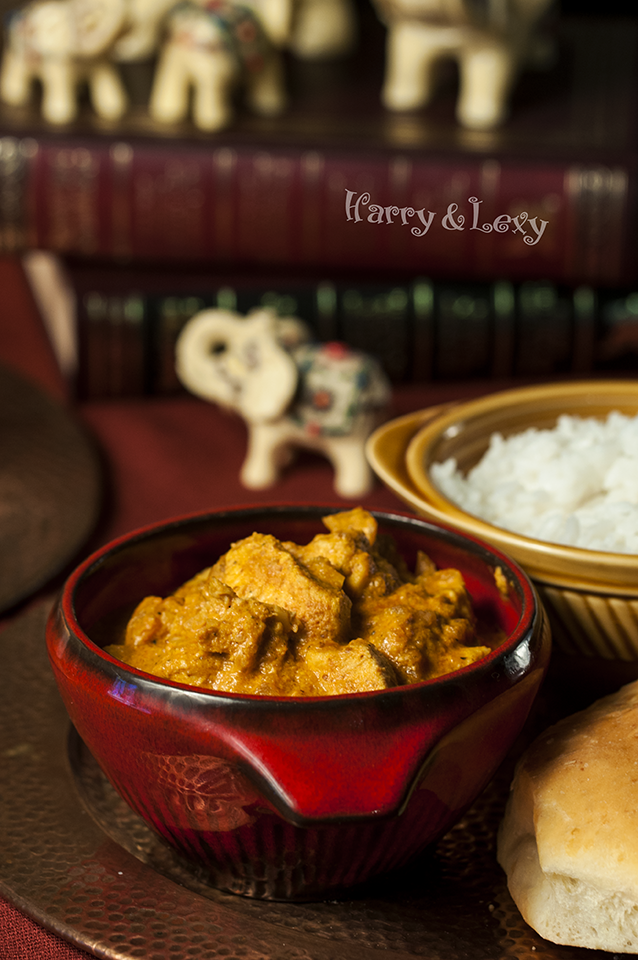 Ingredients for the chicken marinate:
600 g chicken breast fillets
120 g yogurt
2-3 cm ginger
1 dried chilli (or ½ tsp. chilli flakes)
1 garlic clove
1 tbsp. lemon juice
1 tbsp. mustard
1 tsp. turmeric
1 tsp. cumin
1 tsp. coriander
½ tsp. curry powder
Ingredients for Chicken Tikka Masala:
125 ml cream
35 g spicy peanuts
20 ml sunflower oil
4 tbsp. tomato paste
3-4 cm ginger
3 garlic cloves
2 small dried chillies (or 1 tsp. chilli flakes)
1 big onion
1 tsp. cumin
1 tsp. coriander
½ tsp. turmeric
½ tsp. curry powder
½ tsp. salt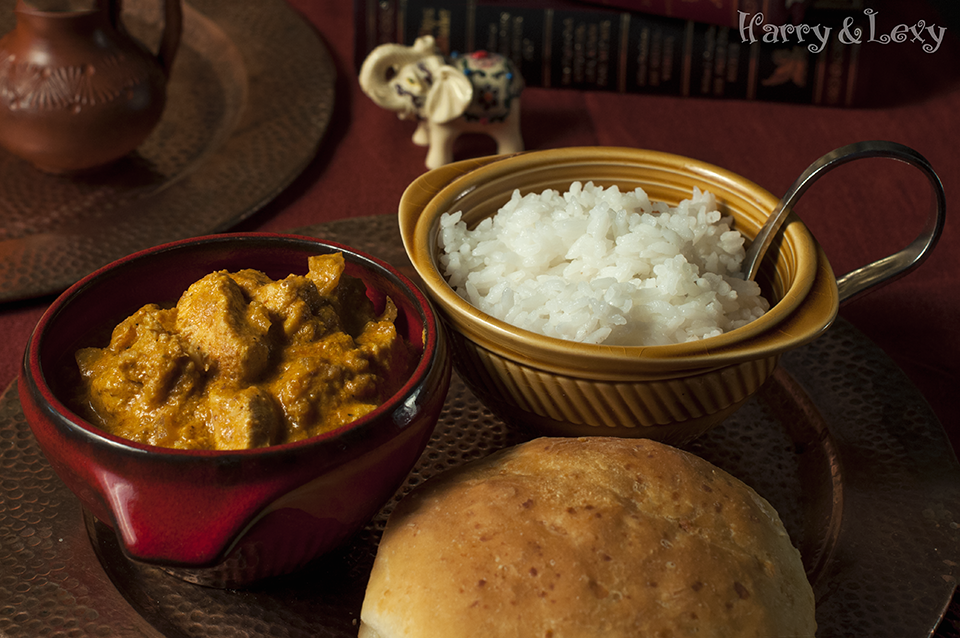 Preparation:
Cut the chicken breast fillets into small cubes.
Peel the ginger and the garlic cloves and chop them and the dried chilli peppers.
Pour the yogurt into a tupperware box. Add the ginger, chilli, spices and lemon juice and mix well. Put in the chicken and stir so all chicken bites are well covered with the marinade. Put in the fridge overnight.
In a big frying pan, heat the oil over medium heat.
Cut the onion and fry it until softened.
Chop the garlic cloves and ginger, and add them to the onion. Add in the tomato paste and stir.
Add the spiced peanuts and the chicken fillets with all of the marinade and stir. Put the lid on and leave it to simmer for about 10 minutes. Stir occasionally.
Pour in the cream and the spices but leave the salt and chilli last. Add salt and chilli to taste. Leave to simmer for 2-3 more minutes until the sauce thickens. In case too much of the sauce evaporates, add a little bit of cream and 2 tbsp. water.
Serve with rice and bread.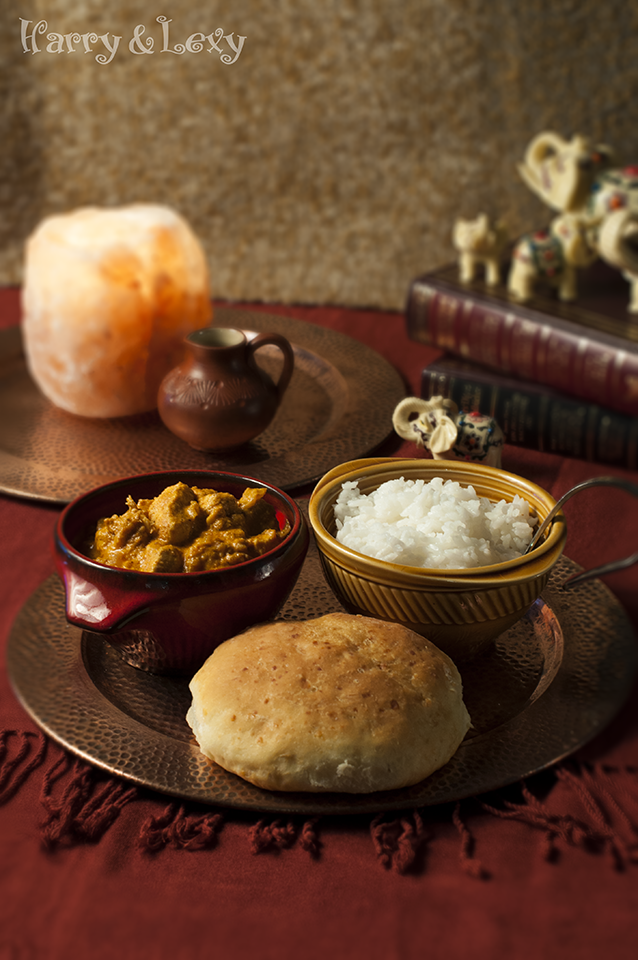 Bon appetit!