Heart Shaped Pizza with Chorizo, Mozzarella and Fresh Basil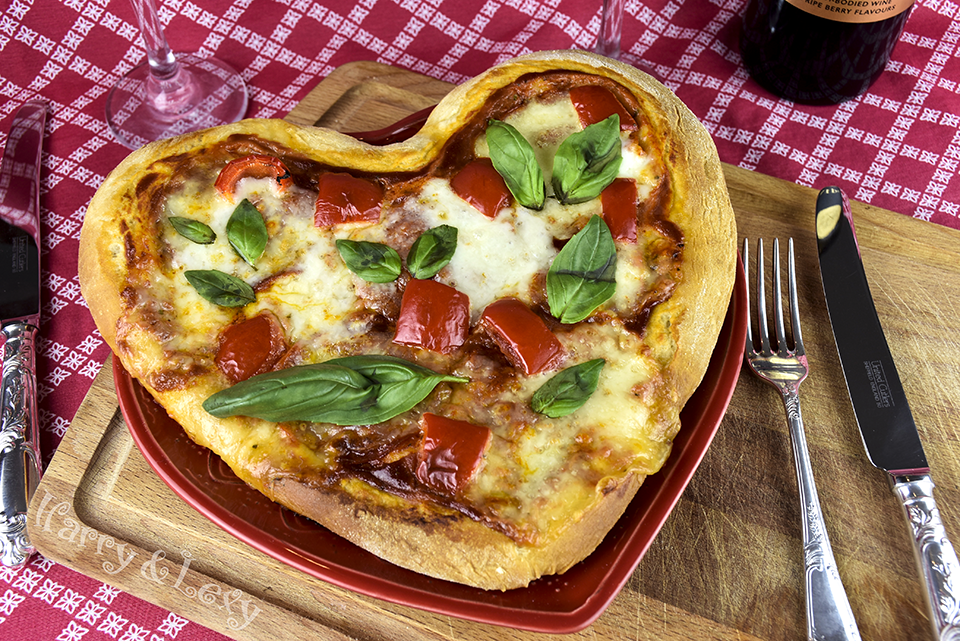 One of the most widely spread and loved meals is pizza, and there is definitely a reason why. It can be vegetarian, gluten free, or sprinkled with ham, salami and all sorts of other stuff for the meat lovers. You can even make yourself a healthy skinny pizza-salad and add fresh rocket leaves, tomatoes, peppers, sweet corn and other veggies, or you can even make it taste sweeter with pieces of pineapple – a.k.a. Pizza Hawaii. The variations are endless and everyone can order whatever they want or feel like. We're so used to having pizza when we're eating out or we just order it to eat at home, that we don't really think about the fact that we can make it ourselves. Making homemade pizza dough is so quick, that you wouldn't even notice, and the baking time is only 15-20 minutes. This is one of the quickest and easiest dinner ideas ever and is perfect for lazy days.
As you can imagine, there is trend even in the making of pizza – usually it's in the ingredients (I don't recall eating pizza with goats' cheese and shallots when I was little), but there is an easy idea for making a romantic dinner as well – heart shaped pizza. It looks really good and you can surprise your loved ones. Of course, you can use your favourite toppings or the ones I have suggested below – chorizo, mozzarella and red pepper. 
Ingredients for 2 homemade heart shaped pizzas:
300 g all-purpose flour
2 tbsp. olive oil
1 pack of dry yeast (7 g)
1 tsp. salt
1 tsp. sugar
160 g mozzarella
140 g tomato puree
100 g chorizo
1/2 red pepper
A few fresh basil leaves
Preparation:
Preheat the oven to 200°C.
Dissolve the dry yeast in 200 ml warm water and set aside for 10 minutes until creamy.
Put the flour, olive oil, sugar and salt in a big bowl. Pour in the yeasty water and stir until a soft dough forms.
Line a large baking tray with parchment paper. Divide the dough in half, roll out and shape 2 big hearts. Leave the edges a bit thicker for a nicer crust.
Spread the tomato puree over the pizza base. Cut the chorizo and mozzarella into thin slices and arrange them on top. Cut the red pepper into small cubes and sprinkle over.
Bake for 15-20 minutes or until golden brown. Decorate with a few fresh basil leaves and serve from the heart.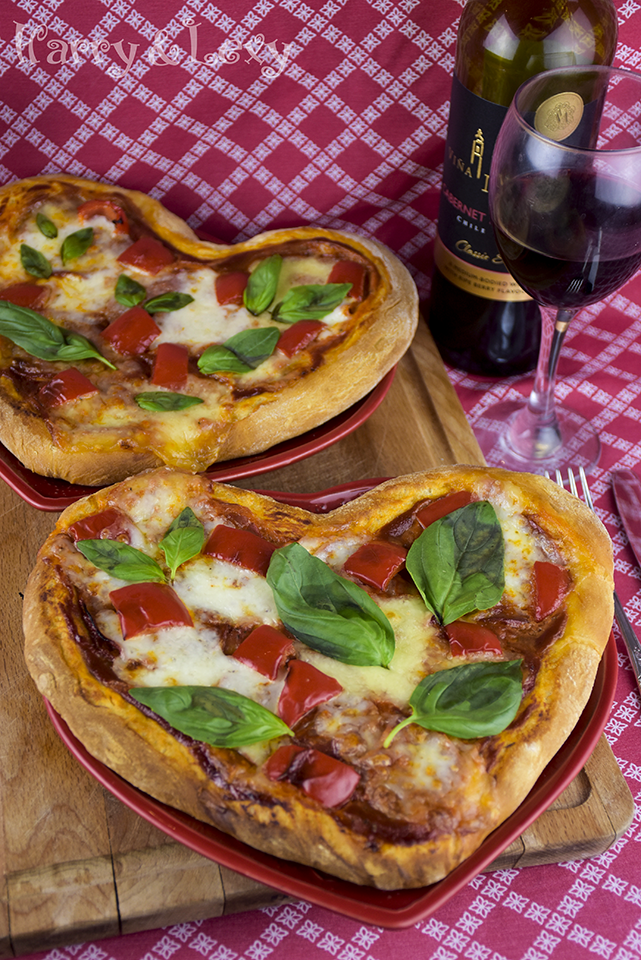 Tip: If you would like to decorate the pizza with fresh basil leaves, so it will have a fresh look and gentle aroma, add the basil after you have already baked the pizza. Never add fresh leaves in advance – during baking they get wet, shrink, change their colour and don't look appealing at all.